NEW DELHI: Amid another record spurt in Covid-19 infections in India on Tuesday, active cases in the country crossed 8 lakh, just two days after going past the 7-lakh mark.
This was the fastest 1lakh rise in active cases since the outbreak of the pandemic, with the count rising by a record 54,000 on Tuesday alone. The previous fastest increase in active cases across 1 lakh milestones was three days, recorded twice during the ongoing second wave.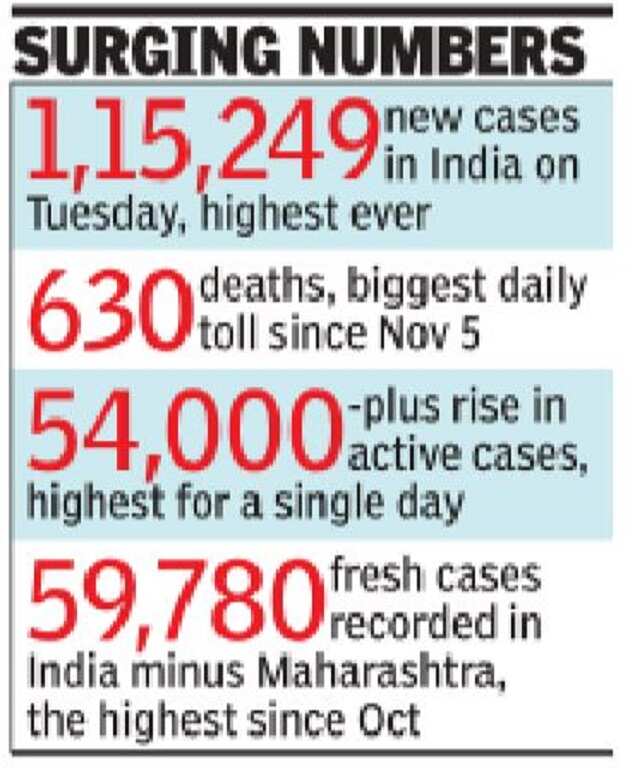 Daily cases hit another new peak with 1,15,249 fresh infections being reported on Tuesday, beating Sunday's record high of 1,03,844, when India had become the second country after the US to log over 1 lakh Covid-19 cases in a day.
There were 630 deaths from the virus in the country in the last 24 hours, the highest single-day toll since November 5. Such has been the surge in the pandemic over the past few weeks that the count of active cases has gone from 2 lakh to over 8 lakh in just 24 days.
The corresponding rise in active cases during the first wave had taken 66 days. On Tuesday, at least 16 states reported their biggest daily counts of new cases since at least December last year.
Chhattisgarh was among three states that reported their highest ever sin gle-day rise in cases. Chhattisgarh added 9,921 fresh cases, becoming the second state after Maharashtra to cross the 9,000 mark. Madhya Pradesh with 3,722 new infections and Gujarat with 3,280, also posted their highest ever daily counts.
Maharashtra, by far the worst hit by the virus, logged 55,469 new cases, its second highest daily count after Sunday's count of over 57,000. Mumbai recorded 10,040 new infections, it's second highest count yet.
Meanwhile, Karnataka reported 6,150 fresh cases, the highest since October 20 and Uttar Pradesh added 5,928 infections, the most since September 18. The count in Delhi was 5,100, the highest since November 27.
While Maharashtra recorded 297 deaths from the viral infection in the last 24 hours, the Covid toll was high in several other states. Punjab reported 62 fatalities, Chhattisgarh 53, Karnataka 39 and Uttar Pradesh 30.