MUMBAI: Maharashtra is likely to face a strict lockdown for 15 days as Covid-19 cases in the state have continue to surge despite strict restrictions for a week. A demand for a complete lockdown was made by most ministers in the state cabinet meeting held on Tuesday, and chief minister Uddhav Thackeray is likely to make an official announcement by addressing the state on Wednesday.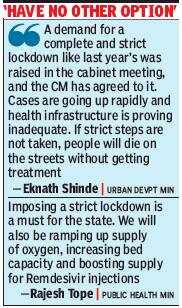 The state government on Tuesday also added fresh curbs (reported by TOI in Tuesday's edition), restricting the timings of grocery and other food shops to only four hours from 7am to 11am. However, home delivery from these shops has been allowed from 7am to 8pm, and local bodies have been given the authority to change home delivery timings. These restrictions came into force from 8pm on Tuesday and will be in force till 7pm on May 1.
Public health minister Rajesh Tope said there was no option but to impose a strict lockdown. Officials said guidelines for a lockdown are being drafted, and restrictions on timings for essential shops will continue. Attendance in government offices may be reduced, and a ban on interdistrict travel is expected.
Maharashtra will collapse if situation doesn't improve, says minister
The state government may impose a strict lockdown for 15 days. Officials said that at Tuesday's cabinet meeting, there were suggestions regarding the shutting of public transport for the general public from some ministers, but that may not be feasible as many people step out for medical emergencies and even for vaccinations and rely on the use of public transport. A final call on this will be taken by Thackeray.
Urban development minister Eknath Shinde said, "A demand for a complete and strict lockdown like last year's was raised in the cabinet meeting, and the CM has agreed to it. Cases are going up rapidly and health infrastructure is proving inadequate. If strict steps are not taken, people will die on the streets without getting treatment." He said with so many cases, Maharashtra was falling short of oxygen and was getting 300 MT from other states. "Even those states will stop giving us as cases are going up there as well," Shinde added. Housing minister Jitendra Awhad said, "Ministers pressured the CM to announce a lockdown. There is a Covid-19 death in every other house in the state, and if the situation doesn't improve, Maharashtra will collapse."
The data on the Covid spread in the state which was presented to the state cabinet reflected concerns raised by the ministers. Projections made by the state till May 2 show that most districts will have an acute shortage of beds , especially critical beds. It has been projected that Mumbai will have over 1.4 lakh active cases till May 2 if the cases continue to increase at the current rate, which is nearly twice the active cases today. Also, Mumbai will have a shortfall of over 6,000 oxygen beds, 1500 ICU beds and 121 ventilator beds. Cities like Nagpur and Pune have also been projected to have a massive shortage of beds.
Tope said, "Imposing a strict lockdown is a must for the state. We will also be ramping up supply of oxygen, increasing bed capacity and boosting supply for Remdesivir." He said another decision taken was that district collectors have been allowed to give orders to set up oxygen generators without having to wait for the tenders process.